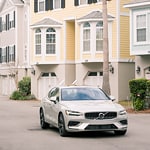 The luxurious new Volvo S60 is equipped with a high-quality interior that will comfortably carry you between your destinations. The interior of the new S60 is enhanced by optional features like ambient lighting and massaging front seats. However, the standard interior of the new Volvo S60 is still very enjoyable.

Materials

The interior of the Volvo S60 has been carefully crafted. The standard upholstery of the S60 is smooth and upscale. Nappa leather upholstery is available for the sedan's interior and brushed aluminum trim pieces accent various sections of the model's interior.

Technologies

The Volvo S60 caters to its occupants. Powered by Volvo's Sensus software, the infotainment system of the Volvo S60 includes a selection of media options for drivers and passengers to choose from. A head-up display is available for the S60, allowing drivers to safely drive the sedan while having access to important driving information right in front of their eyes.